Lyndhurst, NJ – October 4, 2018 – Scarinci Hollenbeck is proud to announce that Daniel T. McKillop, Counsel and Chair of the firm's Cannabis Law group, has been named to the National Law Journal's 2018 list of Cannabis Law Trailblazers who have "moved the needle in Cannabis Law in terms of the practice, policy and other advancements." Mr. McKillop is the only legal professional in New Jersey selected for inclusion.
"It's an honor to represent New Jersey on this list and humbling to be included among some of the nation's top cannabis law attorneys. The legal cannabis industry has tremendous potential and we look forward to continuing our representation of participating entrepreneurs as the industry develops further here in New Jersey and nationwide," stated Mr. McKillop.
Prominent Cannabis Law Attorney in New Jersey
Since September 2017, Mr. McKillop has led and developed Scarinci Hollenbeck's Cannabis Law practice group, which represents individual and corporate clients who are participating in or seeking entry into New Jersey's legal cannabis industry. Mr. McKillop's forward-thinking attitude regarding the emerging legal cannabis industry has enabled him to not only develop a premiere Cannabis Law practice in New Jersey but to also establish himself as an educational resource in the field. 
Mr. McKillop was recently appointed to the New Jersey State Bar Association's (NJSBA) Cannabis Law Special Committee for the 2018-19 term and he has been invited to speak on various panels regarding developments in Cannabis Law by organizations such as NJBiz, the NJ Tech Council, the Commerce & Industry Association of New Jersey, and the New Jersey Cannabis Industry Association. Additionally, Mr. McKillop has authored numerous pieces about Cannabis Law developments for several years, some of which have become some of Scarinci Hollenbeck's most popular blog posts.
---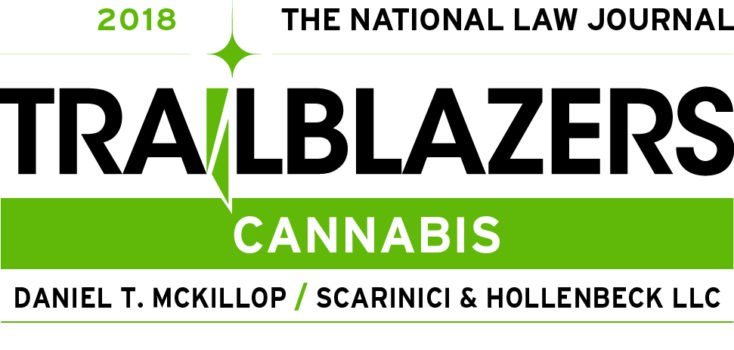 The National Law Journal's Cannabis Law Trailblazers list for 2018 can be viewed at .
(Mr. McKillop's listing can be found on page 18)
You can learn more about the National Law Journal and subscribe here.
---
About Daniel T. McKillop
Daniel T. McKillop, Counsel has more than fifteen years of experience representing corporate and individual clients in complex environmental litigations and regulatory proceedings before state and federal courts and environmental agencies arising under numerous state and federal statutes, including the New Jersey Industrial Site Recovery Act and Spill Compensation and Control Act and the federal Comprehensive Environmental Response, Compensation and Liability Act and Clean Air and Clean Water Acts.  For the last year, Mr. McKillop has led the Cannabis Law practice group at Scarinci Hollenbeck LLC.  Mr. McKillop is Vice-Chair of the New Jersey State Bar Association Environmental Law Section and a member of the newly-formed New Jersey State Bar Association Cannabis Law Special Committee.
Email: dmckillop@sh-law.comPhone: 201-896-7115