August 21, 2019 – Lyndhurst, NJ – Scarinci Hollenbeck Partner and Chair of the firm's Corporate Transactions & Business Law Group, Donald M. Pepe, was recently appointed to serve on the Board of Directors for the Liberty Humane Society (LHS). Additionally, Mr. Pepe was appointed to lead the LHS's Development Committee as the organization is planning to expand its Jersey City facility. Mr. Pepe will be playing a significant role in the acquisition of land and various properties to accommodate for the expansion of the organization.
"The work in which the Liberty Humane Society conducts is of vital importance and holds a special place in my heart. I am deeply honored to play a more active role in their organization," stated Mr. Pepe.
Liberty Humane Society Yappy Hour Adoption Event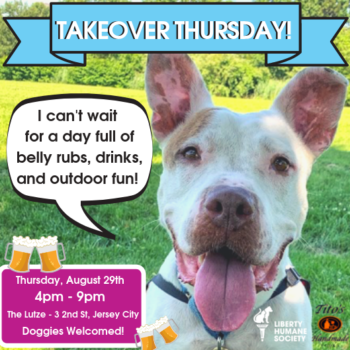 As a member of the Board of Directors, Mr. Pepe will work to advance the mission of the Liberty Humane Society, which is to foster a community of compassion and respect, and to provide animals in need with a chance at a lifelong, loving home. One of the first projects Mr. Pepe has organized to advance this mission is the Tito's Takeover Yappy Hour adoption event to be held next Thursday, August 29th at the Lutze Biergarten in Jersey City, NJ. Sponsored by the firm in conjunction with Tito's Vodka and the Exchange Place Alliance, the event will feature a myriad of dogs up for adoption as well as libations, the opportunity for networking and various activities geared towards building awareness about the Liberty Humane Society's efforts.
You can learn more about the Tito's Takeover Yappy Hour and RSVP at: http://www.libertyhumane.org/tito_s_takeover_thrusday
About Donald M. Pepe
Donald M. Pepe, Partner & Chair of Scarinci Hollenbeck's Corporate Transactions & Business Law Group, devotes his practice to all aspects of complex real estate development and real estate transactional work with an emphasis on retail and residential development. In recent years, Mr. Pepe has established a distinguished prominence in the real estate sector of Jersey City and the surrounding areas. Last year, Mr. Pepe was named Dealmaker of the Year by the NJ Law Journal for his involvement in numerous, major real estate development projects. Some notable projects in which he has been involved include the Hoboken Brownstone's Coles Street Development, as well as the development of various entities along the Gold Coast, including several high-rise projects, a project that will bring a light rail station to the Jersey Avenue Area, and the creation of the Exchange Place Alliance Waterfront Special Improvement District.  
You can learn more about Donald M. Pepe at: https://scarincihollenbeck.com/attorneys/donald-m-pepe/