2018 Scarinci Hollenbeck Attorney Promotions Announced
Author: Scarinci Hollenbeck|January 3, 2019
At Scarinci Hollenbeck's Annual Holiday Party, the Firm Announced Attorney Promotions of Two New Partners, One Counsel and One Senior Associate
2018 Scarinci Hollenbeck Attorney Promotions Announced
At Scarinci Hollenbeck's Annual Holiday Party, the Firm Announced Attorney Promotions of Two New Partners, One Counsel and One Senior Associate
Lyndhurst, NJ, January 3, 2019 – Scarinci Hollenbeck is pleased to announce the promotions of Roshan D. Shah and Michael A. Jimenez to Partner, Angelo Auteri to Counsel and Liana M. Nobile to Senior Associate, effective January 1, 2019. All four attorneys are based in the firm's Lyndhurst, New Jersey office. The promotions were announced at the firm's annual holiday party in December.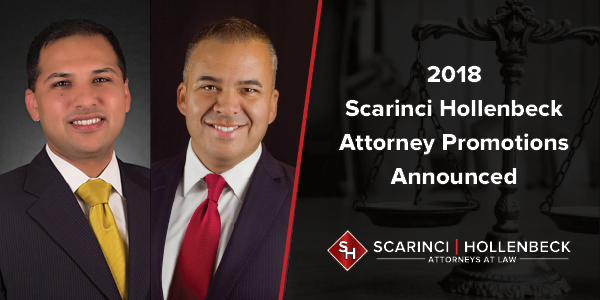 "Throughout the past year, these talented individuals have set the bar extremely high. These promotions serve as a testament to their hard work and unparalleled dedication to their clients. It is a pleasure to have them represent the firm," stated Russell Ascher, the firm's Executive Director.
Roshan D. Shah is a distinguished trial attorney with experience representing clients in a wide range of industries, including real estate developers, government contractors, digital media manufacturers, restaurants, as well as government officials and entities. Mr. Shah has successfully represented clients in trial and appellate courts, including before the United States Supreme Court and New Jersey Supreme Court, in matters ranging from land use challenges, contract disputes, foreclosure actions, employment discrimination, and constitutional torts. He has also successfully represented clients before the federal Government Accountability Office in bid protest matters. In June, Mr. Shah was recognized among the "Leaders in Law" by NJ Biz. Among his many honors and awards, he was named one of the New Jersey Law Journal's New Leaders of the Bar for 2016. In 2015, he was awarded the New Jersey Attorney General's Award for Trial Excellence.
Michael A. Jimenez is a seasoned litigator with a special focus on Public Law, Education Law, Labor and Employment Law, Land Use and Corporate Transactions and Business Law. He regularly represents individuals, municipalities, counties, authorities, and boards in a variety of litigation and compliance matters. Mr. Jimenez also represents large real estate developers and owners, commercial entities, financial institutions, and public and private business organizations in a variety of transactional matters. These include real estate development, commercial and real estate financing, acquisitions, leasing, loan review, construction documentation, zoning and planning, land use, tax appeals, plenary retail liquor license transfers, purchase and sale of businesses.
Angelo Auteri represents both public and private sector clients in a broad range of civil litigation matters in State and Federal Courts. Mr. Auteri currently focuses his practice on Public Law with an emphasis on Labor and Employment. He represents public employers in disciplinary hearings, grievance arbitrations and labor negotiations. Additionally, Mr. Auteri has served as Counsel to counties, educational institutions, law enforcement agencies and municipalities in various areas including the defense of wrongful termination, workplace harassment, discrimination and retaliation claims.
Liana M. Nobile joined the firm's Litigation practice group in June of 2018. Ms. Nobile focuses her practice on all facets of litigation, assisting both public and private clients. Before joining Scarinci Hollenbeck, she was associated with a Cedar Knolls, New Jersey law firm where she focused her practice on insurance defense litigation. Prior to that, she was associated with a Red Bank, New Jersey law firm focusing on plaintiff's personal injury law. Following her graduation from Seton Hall Law School in May of 2013, she clerked for the Honorable Dennis R. O'Brien, J.S.C. in Monmouth County.
"Since the firm's founding in 1988, part of our mission has always been to curate and develop a legal team capable of setting an industry standard. These individuals have embodied this mission through their tireless efforts in continuing to provide our clients with outstanding legal services and establishing themselves as leaders within the firm," remarked Donald Scarinci, Managing Partner of the firm.
---
With a growing practice of more than 60 experienced attorneys, Scarinci Hollenbeck is a regional alternative to a National 250 law firm. With offices in New Jersey, New York City, and the District of Columbia, we serve the niche practice areas most often required by institutions, corporations, entities, and the people who own and control them.Full Biography
Get In Touch
---
---
Get the latest from our attorneys!
Please fill out our short form to get the latest articles from the Scarinci Hollenbeck attorneys weekly on the cutting-edge legal topics.
---