New York, NY, September 19, 2018 – Scarinci Hollenbeck is pleased to announce that its client, the Museum of Illusions, a widely popular, international museum, will be opening its first-ever United States location this week. The museum will be opening its eleventh location tomorrow, September 20th in New York City at 77 8th Avenue, where Chelsea meets the Meatpacking District.
Iva Rukelj, a member of Scarinci Hollenbeck's New York Intellectual Property practice group, worked closely with the Museum of Illusions while it went through the process of opening its United States location. Ms. Rukelj provided legal support and advice on various IP issues, including prosecution and management of the museum's U.S. and international trademarks. Additionally, Scarinci Hollenbeck counseled on the formation of the museum's U.S. entity, its commencement of business in the U.S., as well as negotiated the commercial lease for the museum space atop the historic County Bank Building.
"It was a pleasure to work with the Museum of Illusions as they made their transition to the United States. Given that the museum's roots originate in Croatia, I was especially excited to offer my services as a proud Croatian myself. I think this museum will be a phenomenal attraction and the perfect place for everyone's inner child, offering opportunities to play with our natural curiosity. I'm glad to have been a part of this process," stated Ms. Rukelj.
About the Museum of Illusions
The Museum of Illusions, founded in Zagreb, Croatia, is an interactive museum, which offers a unique visual and educational experience. The museum consists of various optical illusions as well as a playroom including interactive games and puzzles intended for people of all ages. Its collection is comprised of 70+ exhibits which are all based on science, mathematics, biology and psychology. Visitors are given the opportunity to learn more about vision, perception, the human brain and science through the various exhibits. The New York City location will offer several exclusive attractions, including the Thermal Grill, Following Eyes and the Zoetrope installation.
For more information on the Museum of Illusions and how you can visit, please head over to https://museumofillusions.us
About Iva Rukelj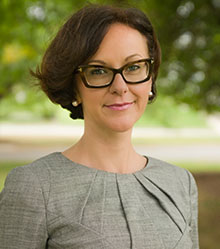 Iva Rukelj is a member of Scarinci Hollenbeck's New York Intellectual Property practice group. She is a highly-regarded international IP attorney with a wide range of experience handling various IP matters. Ms. Rukelj services clients all around the world in various industries including gaming software, food & beverage, fashion and electronic technology. As a native Croatian, she is a member of the Association of Croatian American Professionals (ACAP) where she serves as Secretary of the New York chapter. Additionally, Ms. Rukelj is a member of the New York City Bar Association where she serves on the Trademarks and Unfair Competition Committee and is a member of the New York Women's Bar Association where she serves on the Federal Practice Committee.
Email: irukelj@sh-law.comPhone: 212-784-6909