New Jersey Law Firm Moves to the Heart of Times Square
Author: Scarinci Hollenbeck|August 3, 2015
Scarinci Hollenbeck Expands its Presence in NYC with Move into Ballon Stoll Bader & Nadler, PC Offices
New Jersey Law Firm Moves to the Heart of Times Square
Scarinci Hollenbeck Expands its Presence in NYC with Move into Ballon Stoll Bader & Nadler, PC Offices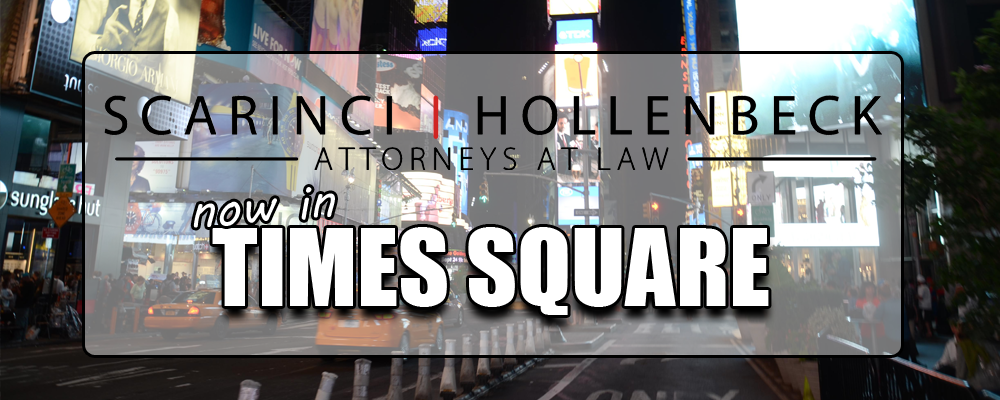 New York, NY - August 3, 2015
- Scarinci Hollenbeck is pleased to announce the relocation of its New York City office to the heart of Times Square where space will be shared with Ballon Stoll Bader & Nadler, PC, a mid-sized full-service law firm founded in 1931 catering to the needs of businesses and individuals alike. Like Scarinci Hollenbeck,
Ballon Stoll Bader & Nadler
has always been ahead of its time and possesses a talented team of attorneys serving clients in fields including, but not limited to, Corporate,
Tax and Estate Planning
, Securities, Litigation, Arbitration, and Insurance. Scarinci Hollenbeck's New York office has historically experienced high levels of success in servicing clients in the areas of Investment Banking, Mergers & Acquisitions, Securities Offerings, Corporate Disclosures and Insurance. Its proximity to a firm with BSBN's rich history will enhance Scarinci Hollenbeck's ability to
provide quality services
to its clients, including those in the
apparel and entertainment industries
. "Our relocation is more than just a geographical move," explained Russell Ascher,
Scarinci Hollenbeck's Executive Director
, "it's a strategic collaboration." He continued, "Sharing an office with Ballon Stoll Bader & Nadler's rich history, strong foundation and level of experience is only expected to expand both firm's offerings as we continue to meet the future head on." According to Vano Haroutunian, the Chief Financial Officer of Ballon Stoll Bader & Nadler, "We have always encouraged our attorneys to collaborate with their colleagues in other practice areas and maintain an open door policy for consultations concerning client matters." Howard Bader, Ballon Stoll's Managing Partner, further noted, "This move allows us to take advantage of Scarinci Hollenbeck's strong foothold in New Jersey to enhance our offerings for current and future clients; we expect that both firms will reap the benefits of this strategic collaboration." Donald Scarinci, Managing Partner of Scarinci Hollenbeck added, "The synergy between the two firms is palpable; the relocation allows us to add additional talent to our already successful New York City practice." Aside from being in a more convenient location, in close proximity to both Port Authority Bus Terminal and New York Penn Station, Scarinci Hollenbeck's move to its new office space means improved client service, new amenities for employees and room for growth. "The new location will provide faster internet connectivity and efficiency in how we serve clients. We expect this to improve both internal and external communication, and most importantly our speed in responding to clients' questions," said Earl Manguiat, Director of Information Technology for the Firm. Effective August 3
rd
, Scarinci Hollenbeck's new address will be:
729 Seventh Avenue 17th Floor New York, New York, 10019
 All of Scarinci Hollenbeck's phone numbers and fax numbers will remain the same.
###
About Ballon Stoll Bader & Nadler:
Founded in 1931 and built upon a tradition of excellence, Ballon Stoll Bader & Nadler, P.C. ("Ballon Stoll") is a mid-sized full-service law firm catering to the needs of businesses and individuals alike. Since its founding Ballon Stoll has, in many respects, always been ahead of its time. It was a legal pioneer, and remains a leader, in many industries and practice areas. By having deep roots and longevity in these areas and industries, Ballon Stoll has seen the fluctuations in the marketplace and their effects throughout the years. As a result, they understand not only where you are, but where you have been, and where you want to be. With this insight and their talented team of attorneys, Ballon Stoll stands ready to work with you to find an effective solution to your immediate issues and will continue to support you in your long term success.
About Scarinci Hollenbeck:
Scarinci Hollenbeck is a New York, New Jersey and Washington, D.C. law firm that serves a diverse group of clients in numerous industries. The full service, general practice law firm retains a highly trained legal team with expertise in several areas, including, Corporate Transactions and Business Law, Commercial Real Estate, Environmental & Land Use Law, Complex Litigation, Labor & Employment, ERISA, Cyber and Data Privacy Law, E-Discovery, Insurance Law, Bankruptcy and Creditor's Rights, Public Law, Sports and Entertainment Law, and Tax, Trust & Estate Law. Top-tier personnel, innovative technology and superior client service adds to Scarinci Hollenbeck's reputation as one of the most highly ranked law firms in the New York and New Jersey Metropolitan area.
For further information contact: Peter Moeller, Director of Marketing psmoeller@scarincihollenbeck.com 201-896-4100
---
With a growing practice of more than 60 experienced attorneys, Scarinci Hollenbeck is a regional alternative to a National 250 law firm. With offices in New Jersey, New York City, and the District of Columbia, we serve the niche practice areas most often required by institutions, corporations, entities, and the people who own and control them.Full Biography
Get In Touch
---
---
Get the latest from our attorneys!
Please fill out our short form to get the latest articles from the Scarinci Hollenbeck attorneys weekly on the cutting-edge legal topics.
---