Retired NJ Superior Court Judge to Lecture on How to Win a Trial
Author: Scarinci Hollenbeck|May 7, 2018
Retired NJ Superior Court Judge, Ronald Lee Reisner, Of Counsel, presents on "How to Win a Trial, 45 Years in Wonderland," to assistant prosecutors of Middlesex County
Retired NJ Superior Court Judge to Lecture on How to Win a Trial
Retired NJ Superior Court Judge, Ronald Lee Reisner, Of Counsel, presents on "How to Win a Trial, 45 Years in Wonderland," to assistant prosecutors of Middlesex County
On Wednesday, May 9, retired New Jersey Superior Court Judge, Ronald Lee Reisner, J.S.C. (Ret.), will be giving a lecture entitled, "How to Win a Trial: 45 Years in Wonderland". Judge Reisner will be lecturing assistant prosecutors on how to be successful in court trying criminal cases. Attendees will receive 2 hours of CLE credits. It is important to note that the lecture, held at the Middlesex Prosecutor's Office, is only available for the staff attorneys and assistant prosecutors of the office to attend. However, the lecture will be recorded on video.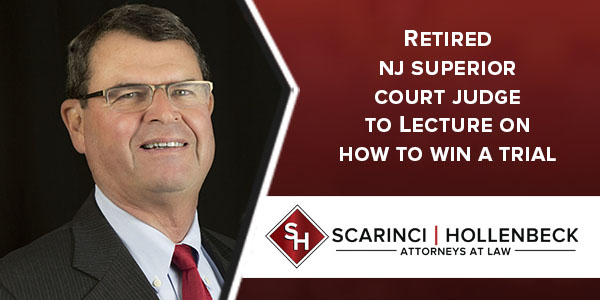 "I am hopeful that my decades of legal experience have provided me with some clues on how to win jury cases and I hope to impart some of those clues to the young assistant prosecutors in Middlesex," remarked Judge Reisner.
More on Ronald Lee Reisner, J.S.C. (Ret.)
Ronald Lee Reisner, J.S.C. (Ret.) is a former New Jersey Superior Court Judge assigned to Monmouth County, who took office in 2001 and retired in 2016. During his tenure on the bench, Judge Reisner served in the civil, family and criminal divisions. A valuable addition to the firm, he brings his considerable skills to Scarinci Hollenbeck, as his years as a judge have given him expertise in alternate dispute resolution including both arbitration and mediation, with private and public sector clients. He has also served as a member of the District Ethics Committee of Monmouth County.
You can learn more about Judge Reisner by visiting his firm bio.
---
With a growing practice of more than 60 experienced attorneys, Scarinci Hollenbeck is a regional alternative to a National 250 law firm. With offices in New Jersey, New York City, and the District of Columbia, we serve the niche practice areas most often required by institutions, corporations, entities, and the people who own and control them.Full Biography
Get In Touch
---
---
Get the latest from our attorneys!
Please fill out our short form to get the latest articles from the Scarinci Hollenbeck attorneys weekly on the cutting-edge legal topics.
---