Law Firm Marketing Director Receives Leadership Award
Marketing Director of Scarinci Hollenbeck, Peter S. Moeller, To Receive Meadowlands Regional Chamber's Arline Simpson Leadership Award
Law Firm Marketing Director Receives Leadership Award
Marketing Director of Scarinci Hollenbeck, Peter S. Moeller, To Receive Meadowlands Regional Chamber's Arline Simpson Leadership Award
---
Lyndhurst, New Jersey, February 15, 2018 – Scarinci Hollenbeck is proud to announce that Peter S. Moeller, the firm's director of marketing, has been named among the 2018 recipients of the Meadowlands Regional Chamber's Arline Simpson Leadership award. As one of six professionals receiving the award, Peter was nominated based on his impressive work, innovation, and selfless leadership.
Every year, the Meadowlands Regional Chamber honors individuals who have been active and integral in advancing the Chamber's mission and improving the greater community with the Arline Simpson Leadership Award. The award is named after the late Arline Simpson Seidman, a former Chairwoman of the Chamber whose dedication and leadership spanned a 25-year period. The professionals recognized for this award share many of the characteristics of a great leader, much like the late Arline Simpson Seidman – from stark attention to detail, commitment to quality work, to contributions to their community and more.
Donald Scarinci, founding partner of Scarinci Hollenbeck stated, "It has been a pleasure to witness Peter's journey over the years. From his days in the mailroom to leading one of New Jersey's fastest growing law firms' marketing efforts, I can say with confidence that Peter has gone above and beyond to deserve this award. His dedication and no-nonsense work ethic has been a driving force in aiding the firm's growth over the years. I am immensely grateful to have him as part of the Scarinci Hollenbeck family with all the value he brings to the firm."
"I have always known Peter to be a self-starter with seemingly boundless ambition and dedication to his craft. I think there is something for all of us to learn from how Peter conducts himself professionally and his constant aim to be on the forefront of his industry," said Russel Ascher, Executive Director of Scarinci Hollenbeck.
About Peter Moeller
Before Peter began his journey in the mailroom of Scarinci Hollenbeck in 2009, he earned his Bachelor of Arts from Pace University where he was President of the Pace Association of Collegiate Entrepreneurs. Now, as Marketing Director, he manages all aspects of marketing and communication as well as business development initiatives within the firm.
Among his many professional awards, distinctions and accolades, Peter was a recipient of NJBIZ magazine's 2016 Forty Under Forty Award as well as JSPRAA and the NJ Ad Club's "Best of the Best" Awards for MARCOM professionals under 40. Most notably among Peter's achievements is his successful implementation of Scarinci Hollenbeck's Random Act of Kindness month, which celebrates, encourages and inspires generosity within and outside of the firm. This is, in part, why the Meadowlands Regional Chamber is recognizing Peter – he has taken the initiative to give back to his community and as a result, has advanced the mission of the Meadowlands Regional Chamber.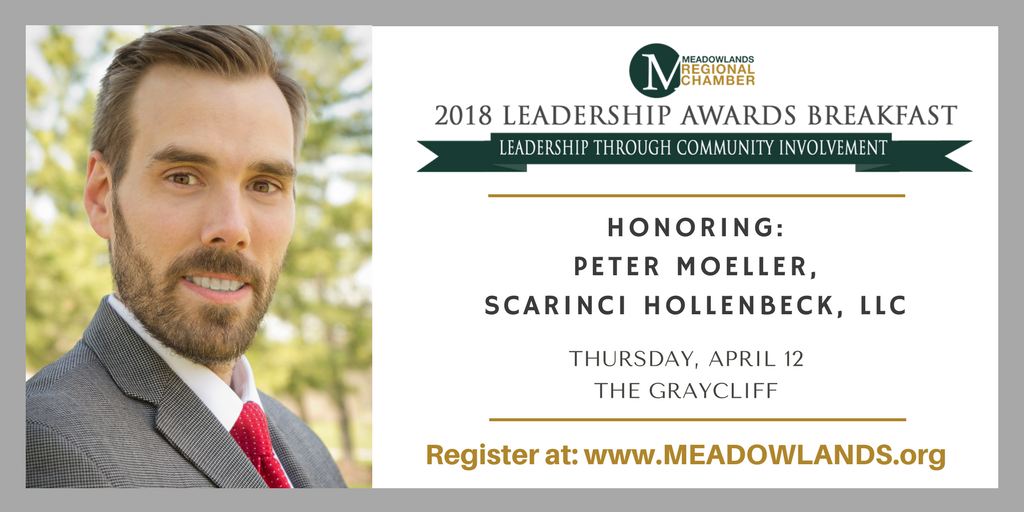 The Meadowlands Leadership Award Breakfast will be held from 8:30 – 11:30 AM on Thursday, April 12, 2018 at the Graycliff in Moonachie, NJ. For more information and to RSVP, please click here.
Please Share This article
About Author Scarinci Hollenbeck
With a growing practice of more than 70 experienced attorneys, Scarinci Hollenbeck is an alternative to a National 250 law firm. With offices in New Jersey, New York City, San Francisco, CA, and the District of Columbia, we serve the niche practice areas most often required by institutions, corporations, entities, and the people who own and control them. Since the firm was founded in 1988, we have maintained our reputation for getting things done.
Contact Practice Representative
Get the latest from our attorneys!
Please fill out our short form to get the latest articles from the Scarinci Hollenbeck attorneys weekly on the cutting-edge legal topics.