On February 13, 2018, the New York Court of Appeals—New York's highest state-level court— issued an opinion ("Opinion") regarding the disclosure of "private" Facebook materials pursuant to New York discovery law.
[caption id="attachment_22520" align="aligncenter" width="550"] Photo courtesy of
William Iven
(
Unsplash.com
)[/caption]
By way of background, the Plaintiff was injured after falling from a horse owned by the Defendant. Plaintiff alleged that she suffered spinal and traumatic brain injuries resulting in cognitive defects, memory loss, difficulties with written and oral communication, and social isolation. In support of her allegations, Plaintiff referenced her own Facebook account, explaining that prior to the accident she often posted photographs depicting her active lifestyle.
The Plaintiff alleged, inter alia, that because of the injuries she suffered from the fall, she had difficulty using a computer and composing coherent messages. As a result of the Plaintiff's reliance on her social media content, the Defendant sought unlimited access to Plaintiff's Facebook account—both private and public content thereon.
NY Supreme Court Opinion
The Supreme Court granted the Defendant limited access to the Plaintiff's account and directed Plaintiff to:
produce all photographs of herself privately posted on Facebook prior to the accident that she intend[ed] to produce at trial, all photographs of herself privately posted on Facebook after the accident that do not depict nudity or romantic encounters, and an authorization for Facebook records showing each time [P]laintiff posted a private message after the accident and the number of characters or words in the messages.
Opinion at 3.
However, the Supreme Court withheld authorization to access the content of any of the Plaintiff's private, written Facebook posts.
NY Appellate Division Opinion
The Plaintiff subsequently appealed the Supreme Court's holding. The Appellate Division modified the holding, "by limiting disclosure to photographs posted on Facebook that [P]laintiff intended to introduce at trial." Opinion at 4. In other words, the Appellate Division established an unprecedented rule "allowing the account holder [of a social media platform] to unilaterally obstruct disclosure merely by manipulating 'privacy' settings or curating the materials on the public portion of the account." Opinion at 8.
NY Court of Appeals Opinion
Yet again, the Plaintiff appealed, challenging the Appellate Division's holding. Ultimately, the Court of Appeals held that "the Appellate Division erred in employing a heightened threshold for production of social media records that depends on what the account holder has chosen to share on the public portion of the account." Opinion at 7.
The Court reiterated that "[f]or purposes of disclosure, the threshold inquiry is not whether the materials sought are private but whether they are reasonably calculated to contain relevant information." Opinion at 11. As such, "private materials may be subject to discovery if they are relevant." Opinion at 11 (emphasis added).
In sum, the Court of Appeals stated that New York's "well-established rules" of discovery should remain unmanipulated as "there is no need for a specialized or heightened factual predicate" with respect to social media. Opinion at 10.
Even though the Court of Appeals stated that "there is nothing so novel about Facebook materials that preclude application of New York's long-standing disclosure rules," Opinion at 7. discovery demands encompassing social media continue to pose more questions than answers.
Key Questions To Consider
In fact, the Court of Appeals' holding is fairly narrow and leaves a plethora of issues unaddressed. For example:
If the content provided on one social media account is found to be relevant, are all other social media platforms consequently relevant as well?
How would a party show that (a) social media content had been deleted from an account and (b) that said deleted information was relevant?
Is the party from whom discovery is sought responsible for taking steps to obtain, and subsequently disclose, any material he or she may have posted, and deleted, during any relevant time frame?
Best Practices for Attorneys
As the courts continue to grapple with social media and its nuances, practitioners should keep the following in mind:
Attorneys may, and likely do have an affirmative duty to seek the disclosure of materials from social media accounts.
Like other discovery requests and demands, those relating to social media should be narrowly-tailored with respect to timeframe and content.
Social media content should be addressed in spoliation notices to both the opposing party and an attorney's own client.
About the Authors
Jessica and Caitlin are well-versed in navigating the dynamic social media landscape with respect to both public and private clients.
They are in the process of curating a CLE which will address: (1) how to handle social media during the discovery process; (2) tips and tricks for finding, and reviewing social media accounts; and (3) the interplay between the attorney ethics guidelines and social media.
As an extension of their practice, both Jessica and Caitlin are currently pursuing their CIPP/US (Certified Information Privacy Professional) Certification to further assist clients in achieving compliance with U.S. privacy laws and regulations.
If you have any questions or if you would like to contact Caitlin or Jessica about Social Media Discovery, feel free to contact them at 201-806-3364.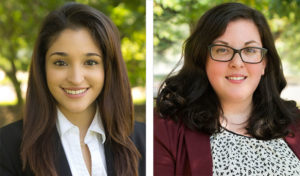 Jessica F. Gonzalez (left) & Caitlin P. Dettmer (right) both work with private and public sector clients on both state and federal labor and employment issues. They also have experience handling intellectual property matters, including but not limited to trademark registration and infringement issues.